Interviews
Professional Cricketer Haseeb Hameed talks to HOTD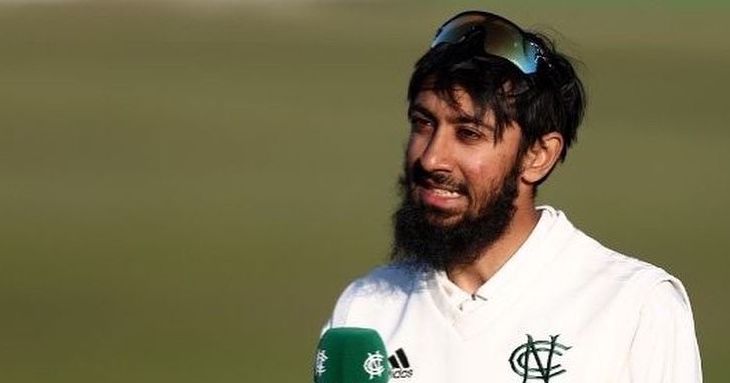 Haseeb Hameed is a professional cricketer who has had a bright start thanks to hard work, determination and skill. He's played all over the world including internationally for England Test matches and has even scored a century at the historic Lord's cricket ground. He recently captained the Nottinghamshire Outlaws in the Royal London Cup and is not just a rising star but an inspiration to many. He took time out to speak to HOTD.
Haseeb Hameed is a professional cricketer who has had a bright start thanks to hard work, determination and skill. He's played all over the world including internationally for England Test matches and has even scored a century at the historic Lord's cricket ground. He recently captained the Nottinghamshire Outlaws in the Royal London Cup and is not just a rising star but an inspiration to many. He took time out to speak to HOTD.
You're a professional cricketer at just 25 years old and play internationally for England Test cricket. Tell us about when you first got interested in cricket and what attracted you to the sport?
I've got two elder brothers and my Dad used to play as well. So I think the passion was there from a very young age, just being around the game, watching it on TV, watching my brothers play locally. My brothers started when they were a lot older than me, so they probably started playing properly at the age of 15 and Dad always had a passion and a desire for one of us to go on and play professionally. As my brothers started at quite an older age than I did, it was harder for them, but I started when I was seven or eight and thankfully, there was some talent there and that's when it really started for me.
Masha'Allah! Who were your cricketing heroes when you were growing up?
Sachin Tendulkar stands out as someone that I really looked up to and loved to watch and play. As a youngster, you watch anyone that's successful and you try and pick things up from them. So there are many others. I had a little Gray-Nicoll's bat and would try and copy Muhammad Yusuf then watch Kevin Peterson play and try and copy his flick shot.
Are there any active cricketers playing at the moment that you admire?
One of my modern-day heroes is Virat Kohli. He's an incredible player and person who I've been lucky enough to play against in an England vs India match. I've shared a dressing room with Joe Root, another player who has taken his game to a different level, especially in the last couple of years.
Then there's the incredible Babar Azam, who I just love watching play. I was with Imad Wasim last year as he was one of our overseas players and it was a 4-day game. He just popped in and we got chatting about Babar. The way he was speaking about Babar just reflects the level of respect he commands even just from his colleagues and peers. So these three are my picks for inspiration.

You grew up in Bolton, can you tell us about what that experience was?
It was special from the beginning. I started in Bolton, playing in a local park in front of our house. I'm grateful for my family's support as they gave me opportunities and encouragement that opened doors for me. You can't under appreciate the role parents have to play in your development and your fulfilment of a dream. From a young age, you need that support and backing. Nothing is easy and everything you do that's worth it requires some level of struggle. Those early days were difficult, because I knew what I wanted to do but nobody knew where it would end up leading.
When you were a young child, what did you want to be when you grow up?
Even at that young age, the only thing I foresaw myself doing was, was playing cricket at the highest level. I've never really considered anything else as I was totally engrossed in it and passionate about it for as long as I can remember. If you are really into something, then you watch it, love it and envision yourself doing it and being that person in the future. I was playing above my age quite a lot and Alhamdulillah met with success which gave me the confidence that this was something I could do and was meant for me. It reaffirmed my faith in myself.
Is it harder being a batsman, because so much depends on what you're bowled and you only get one chance at a shot so you're in the limelight quite a bit?
There is that challenge as a batsman. It's important for you to have that 100% focus and belief and not have people around you that tell you things that you always want to hear just for the sake of it. It's important to surround yourself with people who are honest with you. Also when things go well, you need people around you that will keep you grounded and make sure you're not getting too far ahead of yourself. That's important too.

You broke Mike Atherton's record of 1000 runs in 2016 and that too at such a young age, how did that feel and where do you get the stamina from?
Alhamdulillah, it was a huge moment for me and a massive honour. I think had debuted for Lancashire the previous year and played four games towards the back end of that year. Mashallah, I did okay and then started the season in Division One. Alhamdulillah, things went really well. If you were to listen back to my earlier interviews, I've always said I want to play for England and that was my ambition. I've always been transparent and never shy about sharing my dreams. Because of that and my faith in myself, scoring those runs wasn't like, wow, this is all happening to me and I'm not ready for it. Mentally, I felt that I've worked hard for it and had been preparing for it.

Do you have to train all year round and if so, how do you adapt your training to Ramadan?
We train a lot and throughout the year. This last season we'll finish at the end of September, have five to six weeks to recover and then we'll be back around November 12th. Obviously, there's a requirement or expectation to make sure you keep on top of things physically and not come back in terrible shape, but there's also an understanding that we've had a six-month season so there will be time to rest and relax.
In terms of Ramadan, the last few years have been during the cricket season. The way I see it is that the spiritual aspects of it far outweigh any other challenges. You can take the blessings from the month and the spirituality and even the mental strength that you can take from it far outweighs the physical challenges. Of course, there are physical challenges too because there will always be days when you're training and fasting, but it's impossible to put into words the spiritual and mental benefits of this month that conquer all.
It's great to see not just more diversity in sport, but an understanding of different backgrounds and faith requirements, which just wasn't there before.
Yes, even here there's increased awareness and the guys will make an extra effort to make sure I'm OK. They'll tailor my training for the day to support that, which is appreciated. It helps that there's a massive support system based on understanding players' needs and helping them deliver their best. There's definitely been a lot of progress there.
You're currently playing for Nottinghamshire, what's your favourite aspect of the sport and what you do?
I think it's just the opportunity to do something that you love every single day. That passion for the game is what drives you to be able to kind of do that and I think it's the biggest blessing. In terms of doing something that you love as a profession, that is without a doubt the greatest blessing.
What advice would you give to a young Muslim looking up at you and wanting to be a successful cricketer like you?


If the passion is there and you love the sport, hold on to that, because that is what will drive everything. People talk about working hard, but I feel that's only sustainable if there's a passion for the game. You can only work hard for a certain length of time without motivation but when you're doing something that you love, you already enjoy the process. So, I think it's got to be driven by a genuine passion for the game and then that will then lead to you putting in more hours into studying the game and bettering yourself. If you have a love for the game, then keep enjoying it and it'll never become a burden. That's something that I've learned as well. You've got to keep reminding yourself that you are living something you only dreamed about 15 years ago. It's amazing. Nurture that and hold onto the passion you have for what you enjoy.
Do you still have ambitions to pay for England again? Is there a possibility of that in the future?
Insha'Allah. I've played 10 Test matches, seven of which have been away from home and against the best teams in the world. That for me, is a massive plus and the way I see it, to have those experiences by the age of 25 is extremely fruitful. I feel like I've shown enough to know that I can perform at that level. To have made four 50s in the first six to seven matches that I'd played is an achievement. So absolutely. I think that ambition will always be there and I certainly have hopes for the future.
We've got T20 World Cup coming up. Who are you tipping to win or cause an upset?

I hope England have a good chance, Australia have a strong team too and it'll be in the conditions they're used to but anything can happen. With the Asia Cup that Babar has had, I wouldn't be surprised if he goes on to deliver something special.


Are there any Hadith or any aspects of Islam that has helped you through tough times or motivated you, you know, made you become better or help comforted, you comforted you when you were down? Is there any parts of our faith that has done that?
It's played a massive part. Naturally, after the Australia tour, I was feeling low. It was difficult and you can't pretend everything is OK all the time but acknowledging struggles is a part of our faith. You look at the greatest person, the Prophet (SAW) who faced more challenges than anyone has ever faced and so many more trials than we ever will. It inspires you. Allah only tests those who He loves and you have to remember that constantly so it's part of your mindset. We're all Allah's servants and we will trip and fall regularly because we're not perfect, but just knowing that Allah's Mercy is always there, that He'll never turn away from you and that every step you take towards Him, He will take two steps towards you, it all puts life into perspective. He doesn't burden us more than we can bear. The religion has played such a huge part. There's something I was told which is difficult to put into practice but it is to always have gratitude, even when things aren't going well and that will bring a balance to your life. I'm not saying that's easy but remember Allah rewards effort. He knows we're weak and doesn't expect perfection from us. He just wants to see us make the effort. I think as long as you've got that mindset of putting in all your effort, His help will be there and things will fall into place.
Since You're Here… we have a small favour to ask.
In these extraordinary times, millions rely on HOTD for daily uplifting & inspiring content. Established since 2009 and with your kind support we've seen readers elevate their Imaan & strive for better on a daily basis. We're committed to keeping our content freely available and open for all readers. Every contribution, however big or small, makes a difference and help us spread knowledge to millions daily
HOTD is something special, it's a place where people can come to be inspired, to renew their faith, to learn and share knowledge, to fall in love with our faith and also our Prophet (peace and blessings be upon him and his family).
All content on HOTD is free. We believe what we do in this life builds for the next one and we work tirelessly with the aim to please Allah and inspire the global Muslim community as
well as providing information and inspiration for anyone interested in Islam. We simply cannot do this without your support and your support helps us continue our services.
If there were ever a time to join us, it is now. You can support HOTD and help sustain our future. Support Hadith of the Day and make a one-off donation or give regularly from as little as £10 a month Jazak'Allah Khayr – whatever you donate will come back to benefit you Insha'Allah as whatever is spent in the way of Allah is an investment in the future and the next life. Thank you.